Getting married on the beach. A fairy tale? Absolutely not: much easier than arranging everything at home. And definitely more intimate. Exciting, because it allows you to focus on your choice, on what is happening, without distractions.
Some of our resorts can become the perfect setting for your seaside wedding.
On the Dominican peninsula of Samaná, Viva V Samaná by Wyndham
is a dream come true. There are no neighboring hotels, it is extremely scenic and offers top-level service. Roomy spaces for a few guests, reserved for those over 18, has à la carte restaurants included in the all-inclusive formula.
Of the three room types, the bungalows are the most private, the Vibes have a private patio surrounded by the gardens, and the Vs feature glass balconies overlooking palm trees or the beach.
Viva V Samaná by Wyndham features a spa where the bride can undergo make-up and where, on subsequent days, the couple can enjoy massage treatments together. There are also spaces where you can book performances by musicians especially for the event.
Viva Fortuna Beach by Wyndham is characterized by total privacy as well, in the absence of adjacent facilities. The Bahamas is considered one of the most sought-after wedding destinations, and many celebrities also choose it for romantic getaways…
Bring a white dress and joy. We'll take care of the rest.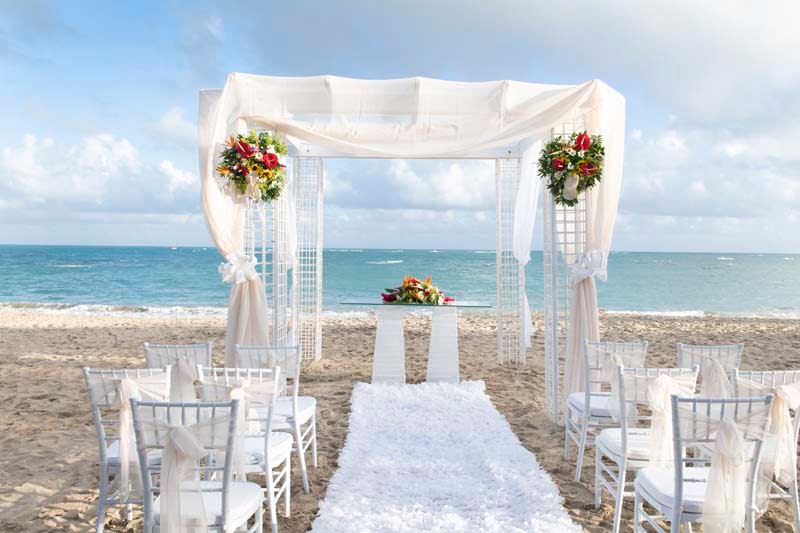 A third option is in the Riviera Maya. Viva Maya by Wyndham has a staff that specializes in weddings. You'll also have the chance to see some of the table settings, in a dedicated room, and some of the photo shoots done for the couples who chose to say yes right here. In the Necui Spa, the bride will find the courtesy and assistance to feel even more beautiful on her special day.
Still in the Dominican Republic, Viva Wyndham V Heavens is a versatile resort. Most of the accommodations are junior suites, which are very spacious and comfortable. V Heavens has many locations and numerous specialty restaurants. It is suitable for active couples who are in the mood for fun in the days after the ceremony: effervescent Puerto Plata is nearby, with daytime and evening attractions, and the 18-hole Playa Dorada golf course is just across the street from the resort. Also in the Dominican Republic, Viva Tangerine by Wyndham is a bundle of energy. It directly overlooks Cabarete Beach, a world icon of kitesurfing. The atmosphere here is all about freedom. Brides and grooms will undoubtedly appreciate the value for money of the suites: very spacious, they are all sea view and offer a large terrace on which to enjoy a private toast.