Uncover the sole all-inclusive resort on the island, nestled along an expansive beachfront with crystal-clear waters and an authentic Bahamian ambiance! Whether you seek relaxation in paradise or an abundance of activities, including water sports, Paddleboard, Pickleball, Paintball, and Trapeze lessons, this destination caters to all.
Immerse yourself in the serene surroundings, perfect for families, couples, and those yearning to disconnect, whether near or far from home. Each of our 274 rooms features a balcony or terrace with stunning views, set within charming Victorian structures that exude enchantment. Indulge in diverse culinary delights, from local to international flavors, across three a la carte dining venues, a buffet restaurant, beach snack bar, and two full-service bars offering 24-hour fare.
The excitement continues into the night with themed dinners and parties, amplifying the allure of our Caribbean haven. Embrace the convenience – a short flight or ferry ride from Florida to Freeport, Grand Bahama Island, awaits you at Viva Fortuna Beach by Wyndham, as well as other international connections.
VIVA FORTUNA BEACH BY WYNDHAM HIGHLIGHTS

24hr All-Inclusive
A worry free vacation where the only thing you'll have to stress out about is having the best time ever!

Beach Front
The blue color palette was most likely born on this beach

Diving
Shark & dolphin encounters are famous, but so are the wreck dives and one of the world's largest underwater cave systems

Pickleball
Pickleball courts!

Eat & Drink
Authentic fare + local beer= Winning ticket!

Paintball
Grab your paint gun and have fun!
ACCOMMODATIONS
Surrounded by beautiful gardens, the perfect place to relax in following an intense, energy-charged day. These recently-renovated rooms reflect a contemporary design which sets one free of their worries as they enjoy relaxation-full nights.
One King-size bed or two Queen-size beds
Maximum occupancy: 4 people (including children)
Terrace or balcony
Free Wifi
Non smoking
Air conditioner
Flat screen with cable television
Telephone
Bathroom with shower
Toiletries
Hair dryer
Iron and ironing board
Mini fridge
Cribs available (upon request)
Safety deposit box ($)
Voltage: 110 Volts, 60 HZ
Awaken every morning to a breathtaking view and set your senses free in a wonderful setting for a vacation. Our comfortable accommodations will provide you refuge after a day bursting with action.
Ocean-view
Adjoining rooms available
One King-size bed or two Queen-size beds
Accesible rooms with one Queen- size bed
Maximum occupancy: 4 people (including children)
Terrace or balcony
Free Wifi
Non smoking
Air conditioner
Flat screen with cable television
Telephone
Bathroom with shower
Toiletries
Hair dryer
Iron and ironing board
Mini fridge
Cribs available (upon request)
Safety deposit box ($)
Voltage: 110 Volts, 60 HZ
EAT & DRINK
Viva Wyndham Fortuna's great diversity of culinary delights pleases the most demanding palates. Bring a healthy appetite when you feast in our selection of meals. Introducing an eclectic blend of local cuisines with elements of International cooking, everyone is bound to be pleased.
Our menus feature the most-tempting elements of Asian, Italian and Caribbean cuisines, adding aspects of American cooking. You will enjoy a banquet at breakfast, lunch and dinner, all prepared by our skillful local and international chefs and served by a caring and friendly staff.
Buffet-style restaurant and international dining. Our varied menu includes new dishes for you to try, as well as your all-time favorite dishes. No need for reservations, so you are invited to come anytime and sample our great culinary diversity which will take you across the kitchens of the world. Served in a lively setting by a staff ready to shower you with the quality service you've come to know and love from us.
Grab a drink or bite to eat at out Snack Bar, at a walking distance from the beach and pool.
Fusion restaurant.  You are in for the time of your life! You will enjoy an exquisite dinner thanks to our menu filled with amazing flavors from around the world . Guests are served by an international staff in a friendly environment. Reservations required.
Step into the vibrant world of Mexico at NEW Hacienda Don Diego, where we invite you to savor authentic mexican dishes amidst an atmosphere adorned with traditional decor. From sizzling fajitas to zesty guacamole, our menu is a celebration of Mexican culinary heritage. while enjoying handcrafted margaritas. Hacienda Don Diego is your destination for an unforgettable Mexican dining experience. ¡Buen Provecho!
Try our new a la carte restaurant with an authentic Italian menu featuring pasta and wood oven pizza to satisfy even the most demanding palates. Reservations required.
ACTIVITIES
With a diverse daily activities' program, marvelous beaches, sports and fun, your vacation is bound to become unforgettable. Enjoy being part of the many activities under the warm tropical sun, accompanied by people who every day put on their best smile. Breathtaking views and a lively entertainment-fun atmosphere make this an ideal setting to enjoy of your favorite pastimes with the opportunity to create new memories.
There are activities created to please all the family members. Some of these include: Pickleball, Trapeze, Introductory diving lessons, Water aerobics, Paintball, Beach games, Tennis, Basketball, Bow and arrow, Beach volleyball, Soccer, Ping Pong, Gym, Bicycling, Kayaking, Paddle boarding…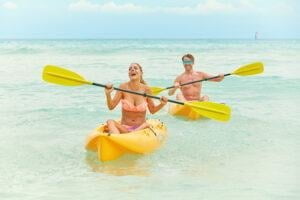 Watersports
Windsurfing and paddle boarding are a must!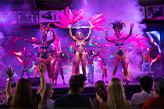 Entertainment
Bars, Nightclubs,
& Live Entertainment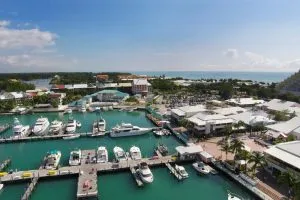 Excursions
Explore Lucayan National Park, go on a sunset cruise or venture into town for duty free shopping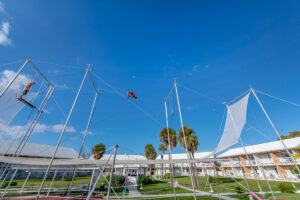 Trapeze
Soar high, go for it!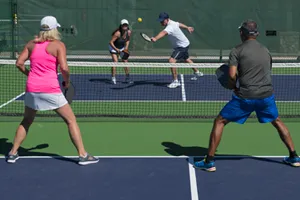 Pickleball
Pickleball courts!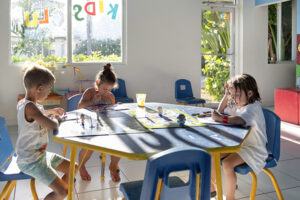 Fun for the Little ones
Our Kids' Club grants parents time on their own while their children foster new friendships.
Quick Facts
13 miles from Freeport International Airport

12 miles from downtown Freeport

4 miles from the resort town of PortLucaya

Official language: English

Currency: Bahamian Dollar

Climate: temperature generally varies de 19 °C a 31 °C
About Grand Bahama
Grand Bahama is the fourth largest island of the Bahamas. In its territory, visitors can enjoy endless attractions that range from submarine caverns to lovely fishermen villages that welcome the people who visit.
This is Freeport, which became a very active city filled with restaurants and eco-friendly attractions, beginning in the 50s; that, along with its already famous handicraft markets, are the main connecting point for tourists. Also, it's one of the entry ports of the Bahamas because it's home to one of the international airports (FPO) of the community with regular flights daily.