Fly high in Cabarete, Puerto Plata or Samana!
Known as the adventure-sports capital of the Dominican Republic, this charming beach town is a tropical paradise with every watersport you can dream of. Cabarete is also a world-renowned mecca for kiteboarding and windsurfing enthusiasts, thanks to perfect year-round warm weather and a consistent seaside breeze.
TOP TEN REASONS TO VISIT CABARETE

World's best kiteboarding

Perfect weather, year-round

250+ kiteable days a year
Friendly locals

350 surfable days a year

Great nightlife

26-30 C / 80-86 F

Tropical beaches & coral reefs

Avg. water temp: 28 C / 82 F

Direct flights from N. Amer.
CABARETE, REPÚBLICA DOMINICANA
Adventure, energy, and the only truly all-inclusive resort in Cabarete await you! Learn to kite or windsurf at the watersports capital of the western hemisphere where the best gather to race and then chill oceanfront. Free introductory kiteboarding lessons are part of the package.
PUERTO PLATA, REPUBLICA DOMINICANA
This all-inclusive resort is located inside of the gated Playa Dorada Resort Complex in Puerto Plata, home to an 18-hole golf course designed by Robert Trent Jones Sr. Unlimited dining at our a la carte restaurants with no reservations required and 24-hour room service sound tempting.
LAS TERRENAS, REPUBLICA DOMINICANA
Can you feel the golden sands of Coson beach under your feet? Get ready for a new level of all-inclusive for adults only, featuring free Wi-Fi and unlimited dining at our a la carte restaurants with no reservations required. And don't forget to try out our Spa, the signature treatment is a head-to-toe coconut experience.
You will learn the wind window and the wind direction, the physical location and the safety systems. Practice various skills on land that will transfer to the water for the next level. Skills covered include assessing the wind and the physical location, using the safety systems, managing proper equipment set-up, and first control of the trainer kite and first skill on the wind window. Controlling trainer kite on air with a normal line and start to know how to control the trainer kite on the water advanced flying skills with the de-power kite in the water. Can put the board on the feet and maintain the correct position for water start. Includes: all equipment and instructor.
Hours can be taken in different days.6 hours total.
US$460
relaunch the kite from the water basic body rag in both directions advanced management of a kite. Water start in both directions and ride a short distance.self- rescue and full pack-down in deep water come to a controlled stop know the right of way rules know equipment set up and choice according to the weather conditions includes: all equipment and instructor.
Hours can be take in different days.8 hours total
US$580 
OTHER PREMIUM WATER SPORTS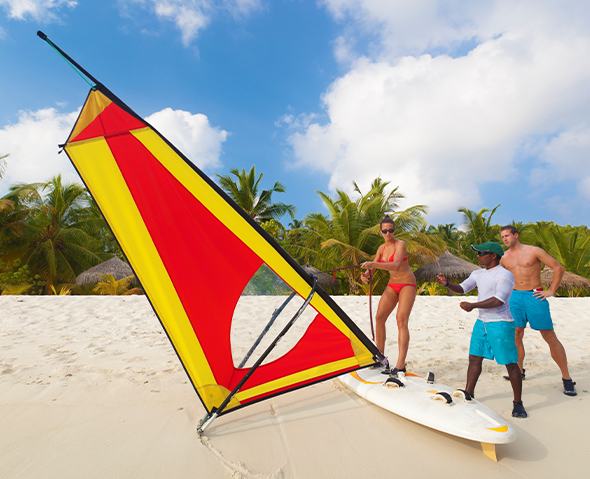 At Viva Tangerine by Wyndham, your all-inclusive stay gives you unlimited access to premium watersports, such as windsurfing, surfing, sailing, and stand up paddleboarding (SUP).
Along with top-tier equipment, we provide progressive teaching for all levels. Beginners typically start by learning the basics in a group discovery course, and those at an intermediate level can practice and work with one of our experienced instructors to bring their skills to the next level.
So what are you waiting for? It's time to book your stay at Viva Tangerine by Wyndham, Cabarete!
YOUR RESORT STAY INCLUDES THESE PREMIUM WATERSPORTS
Windsurfing is where sailing and surfing collide, as board and body are powered across the water by the wind. Our discovery classes are designed to quickly get you offshore and onboard.
In a group discovery class, you'll be introduced to the equipment, helped to understand wind direction, and taught basic turning maneuvers.
If only life were as breezy as our sailing lessons, where you'll be taught boat basics, about winds and currents, and how to cruise along and enjoy the beautiful golden Cabarete shore.
Group classes are available to teach you the basics of board sports. Learn to control your core and stand up on a paddleboard and surfboard on shore before taking to the water to do it some more!
In Cabarete, windsports are a lifestyle, so pros are always around and there are competitions and tournaments year-round. Catch world-class athletes dominating the wind and waves during these popular events.
Watch the most elite windsurfing, surfing, kiteboarding, and SUP athletes from all over the world put their masterful skills on display every year. Only one takes home the grand title of Master of the Ocean.
This world-class tournament attracts international sailors to Cabarete. The midwinter regatta is sponsored by Viva Tangerine by Wyndham and we are the host resort for the event, so we'll see you then!
Local Cabarete kiteboarders come together for an exhilarating competition! Enjoy watching these top-notch athletes compete in Freestyle, Slalom Race, Strapless, Freestyle Junior and Ladies categories for the win.