Nestled in Bayahibe-La Romana, Viva Dominicus Palace by Wyndham is your gateway to all-inclusive luxury on the oceanfront. Immerse yourself in modern comfort with stunning ocean, pool, and garden views. Access the best of both worlds by enjoying sister property Viva Dominicus Beach by Wyndham, with a total of nine restaurants and abundant facilities. This easily accessible resort offers a perfect balance between intimacy and convenience.
From vibrant entertainment, water sports, Padel, Pickleball, and Paddleboarding to handicraft markets, cooking classes, and diving adventures, every day is a new delight. Explore the depths with our experienced Padi diving team or set out on captivating excursions.
Reachable via three international airports—15 minutes from La Romana International Airport (LRM), 45 minutes from Punta Cana International Airport (PUJ), and 1 hour and 45 minutes from Las Americas International Airport (AILA)—your unforgettable getaway awaits!
Winter Getaways
Travel now through March 31, 2024
The holidays are here and there's no better time to give the gift of Viva! Trade in your snowflakes for sandcastles this winter and spring season and immerse yourself in the warm embrace of turquoise waters, pristine beaches and endless fun at Viva Resorts by Wyndham! 
The ultimate Caribbean beach vacation is closer than you think. Dive into savings this winter and spring and enjoy days filled with limitless fun and evenings with unforgettable entertainment. Whether you seek thrilling activities, serene nature, or quality bonding time, Viva Resorts by Wyndham has it all. 
Spring / Summer Escapes
Travel from April 1 – July 31, 2024 
The early bird gets the beach chair this season! Picture yourself lounging on a beach chair this summer with the cool ocean breeze surrounding you as the little ones build their sandcastles. Make your summer dreams a reality by booking your sunny escape early. The adventures start here, so don't delay – reserve now, and start counting down the days till paradise!
VIVA DOMINICUS PALACE BY WYNDHAM HIGHLIGHTS

24hr All-inclusive
A worry free vacation where the only thing you'll have to stress out about is having the best time ever!

Beach Front
Over 1 km of beachfront... Yes, this is your GPS location!

Stay at 1, play at 2
Our guests will enjoy all facilities of this resort PLUS those at Viva Dominicus Beach by Wyndham free of charge

Amigos para siempre
Our international entertainment staff will make sure you have the time of your lives.

Eat & Drink
When we say ALL INCLUSIVE, we mean it... from burgers to a la carte dining.

Pickleball
Keep playing while you vacay!
EAT & DRINK
Arouse your senses to savor the world! And multiply your culinary options by 2…
Our guests are invited to bring a healthy appetite while staying at Viva Dominicus Palace by Wyndham. Our all inclusive offer includes a total of 9 restaurants, as guests can dine at restaurants at this resort as well as the sister property Viva Dominicus Beach by Wyndham. Both resorts offer a variety of cuisines which will please the most demanding palate. With our eclectic blend of Creole and International cuisines, there is something to please all tastes. Our menus take the most provocative elements of Caribbean, Mexican and European cuisines, blending aspects of American cooking. Breakfast, lunch and dinner turn into a culinary feast. Everything is prepared by our skillful local and international chefs and served by a warm and helpful staff.
Buffet-style restaurant and international dining. A realm of new flavors awaits to be sampled. No reservations required, so you can come to the unveiling of our culinary diversity, promising to sweep you across the world's kitchens. Everything served in a lively atmosphere by a wait staff ready to please you.
Buffet-style and grilled restaurant open for lunch; our cuisine delights all palates, served in a fun and lively setting by an international staff. For dinner try our a-la-carte Mediterranean restaurant.
Satisfy those midnight cravings with our Italian pizzeria. We take great care in the elaboration process so we may serve you fresh, authentic pizza straight from our oven.
Whether you're looking for a latte, cappuccino, espresso, or indulge in one of our delicious pastries. Join us at our new coffee shop, and let's share some smiles over great coffee and even better company!
Il Palco a-la-carte Italian restaurant is bound to forge unforgettable magical moments. Relax in an elegant and luxurious environment boasting a tasteful menu. Guests are served by a caring and friendly international team.
Asian a-la-carte restaurant. Its stylish menu and exotic atmosphere are a true International experience. Savor the flavor of new cultures and taste the world at this restaurant. Open for dinner; reservations required.
International specialty a-la-carte dining. Situated on a terrace overlooking the sea. An ideal place to enjoy intimate moments as you savor our exquisite cuisine. Enjoy brand- new dishes or simply spend a memorable time in a pleasing and relaxing environment.
This a la carte style restaurant offers a variety of typical Dominican dishes, an exquisite blend of tropical flavors. Meals are served by an international staff.
ACTIVITIES
An all-inclusive vacation paradise, just for you!
Enjoy countless activities under the warm tropical sun, wrapped in the cool breeze of the Caribbean Sea. With its extensive daily activities' program, pristine beaches, sports and fun, you're in for an unforgettable vacation. Breathtaking views and a lively atmosphere make this the perfect setting for bringing together your favorite pastimes and creating new memories.
There's an activity to entice all members of the family. A few of this include: Paddle court, Trapeze, Introductory diving lessons, Water Polo, Water Aerobics, Inflatable toys, Beach Games, Tennis Courts, Basketball Courts, Bow and Arrow, Beach Volleyball, Soccer Field, Billiards and Ping Pong, Gym, TRX ® FORCE, Catamaran and windsurfing lessons, Paddleboarding…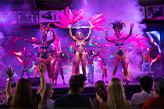 Entertainment
Bars, Nightclubs,
& Live Entertainment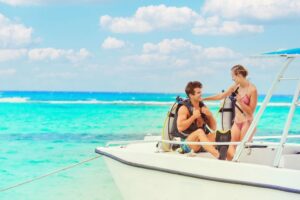 Excursions
Wet or dry, adventure awaits!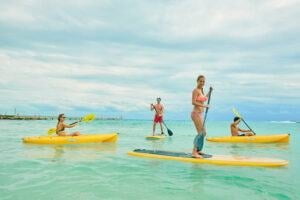 Watersports
Kayak, windsurf, sail, snorkel. The list goes on…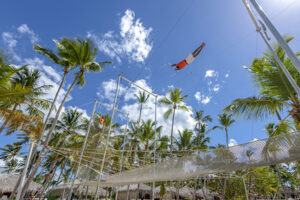 Trapeze
Be a star in our circus!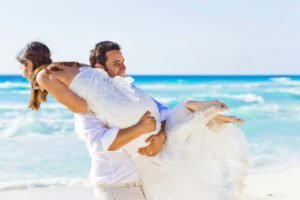 Romance
You've probably seen it before, but you didn't know where it was… because you woke up before you could find out!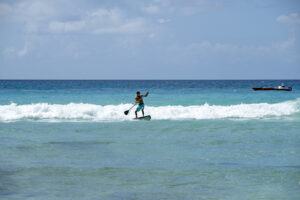 Paddleboard
Walking on water… almost!
About Bayahibe, La Romana
The resort is situated in Bayahibe, in the province of La Romana. A quaint town that's home to a rural fishing community, a baseball league, local artisans and magnificent white sand and crystal-clear water beaches. This scenic village boasts a one-of-a-kind atmosphere where you'll make memories for a lifetime.
Quick Facts
25 minutes from the town of La Romana

This resort is served by 3 international airports:

15 minutes from La Romana Airport (LRM)

35 minutes from Punta Cana Airport (PUJ)

60 minutes from Las Américas Airport (SDQ)

Official language: Spanish

Currency: Dominican Peso

Climate: Average annual temperature of 81°F (27°C) during the day and 73°F (23°C) at night.