Discover all-inclusive paradise at Viva Dominicus Beach by Wyndham, where the sun and moon set the stage for nonstop fun. Nestled along Bayahibe-La Romana's pristine white sands, this resort offers a perfect blend of accessibility and intimacy, standing out with its vibrant entertainment options, diverse culinary experiences, and modern accommodations. From sports, Padel, Pickleball, Paddleboarding, and Trapeze lessons to themed parties, live music, and captivating theater productions, every moment is a celebration.
Whether you're traveling solo, with family, or friends, find relaxation and rejuvenation amidst the Caribbean Sea or lush gardens. Explore the depths with our experienced Padi diving team or set out on captivating excursions.
Reachable via three international airports—15 minutes from La Romana International Airport (LRM), 45 minutes from Punta Cana International Airport (PUJ), and 1 hour and 45 minutes from Las Americas International Airport (AILA)—your unforgettable getaway awaits!
Winter Getaways
Travel now through March 31, 2024
The holidays are here and there's no better time to give the gift of Viva! Trade in your snowflakes for sandcastles this winter and spring season and immerse yourself in the warm embrace of turquoise waters, pristine beaches and endless fun at Viva Resorts by Wyndham! 
The ultimate Caribbean beach vacation is closer than you think. Dive into savings this winter and spring and enjoy days filled with limitless fun and evenings with unforgettable entertainment. Whether you seek thrilling activities, serene nature, or quality bonding time, Viva Resorts by Wyndham has it all. 
Spring / Summer Escapes
Travel from April 1 – July 31, 2024 
The early bird gets the beach chair this season! Picture yourself lounging on a beach chair this summer with the cool ocean breeze surrounding you as the little ones build their sandcastles. Make your summer dreams a reality by booking your sunny escape early. The adventures start here, so don't delay – reserve now, and start counting down the days till paradise!
VIVA DOMINICUS BEACH BY WYNDHAM HIGHLIGHTS

24hr All-inclusive
A worry free vacation where the only thing you'll have to stress out about is having the best time ever!

Beach Front
The blue color palette was most likely born on this beach

5 Pools
Shallow, deep, sweet or salty? Dive in!

Amigos para Siempre
Our international entertainment staff will make sure you have the time of your lives

Eat & Drink
When we say ALL INCLUSIVE, we mean it... from burgers to a la carte dining.

Excursions
Wet or dry, adventure awaits!
EAT & DRINK
Guests staying at Viva Dominicus Beach by Wyndham must bring a healthy appetite to sample our wide variety of cuisines. Our menus have been elaborated to please the most demanding palate, offering an eclectic blend of Creole and International cuisines.
Our menus take the most provocative elements of Caribbean, Mexican and European cuisines, blending aspects of American cooking. Breakfast, lunch and dinner turn into a culinary feast. Everything is prepared by our skillful local and international chefs and served by a warm and helpful staff.
Buffet-style restaurant and international dining. We offer a variety of flavors from around the world selectively added to our menu, including your all-time favorite meals. No reservations required, so you may come and enjoy anytime in the limitless culinary diversity, which will carry you away across the kitchens of the world. Served in a lively atmosphere by our staff ready to give their best.
Buffet-style and grilled restaurant open for lunch; our cuisine delights all palates, served in a fun and lively setting by an international staff. For dinner, try our a-la-carte Mediterranean restaurant.
Running errands from the beach to the bar?  Make a pit stop here and grab something on the go!
Satisfy those midnight cravings with our Italian pizzeria. We take great care in the elaboration process so we may serve you fresh, authentic pizza straight from our oven.
This a la carte restaurant will surely make your foodie side curious starting at the menu, offering Latin classics with a twist.
Buffet-style and grilled restaurant open for lunch; our cuisine delights all palates, served in a fun and lively setting by an international staff. For dinner try our a-la-carte Mediterranean restaurant.
Created to commemorate our 25th anniversary, this à la carte restaurant offers guests an iconic display of the company's geographic expansion and passion for food.
This a la carte restaurant will surely make your foodie side curious starting at the menu, offering Latin classics with a twist.
Fusion gourmet dining; an exquisite blend of tropical flavors and Mediterranean cooking. Overlooking the beach, in an inviting and contemporary setting, where guests can enjoy a romantic dinner for two in front of the breathtaking Caribbean Sea. Additional charges apply.
ACIVITIES
Enjoy the warm tropical sun, as you are engulfed by the caressing breeze of the Caribbean Sea. We invite you to be part of the action. Spectacular sights and lively atmosphere make this a wonderful haven to bring together your all-time favorite pastimes and the making of new memories. Our extensive activities' program, pristine beaches, sports and fun make a vacation unforgettable.
There is an activity that is certain to please all members of the family. Some of these include: Padel Court($), Trapeze, Introductory diving lesson, Water Polo, Water Aerobics, Beach Games, Tennis Courts, Basketball Courts, Climbing wall, Bow and Arrow, Beach Volleyball, Soccer Field, Billiards and Ping Pong, Gym, TRX ® FORCE, Catamaran and windsurfing lessons…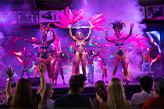 Entertainment
Bars, Nightclubs,
& Live Entertainment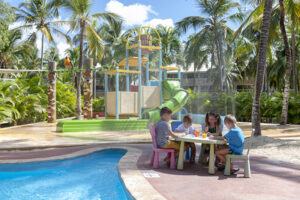 Kids Club
Childcare Amenities & Services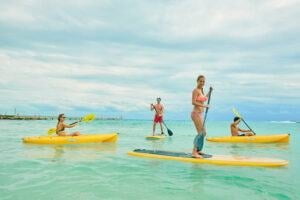 Watersports
Unlimited Land & Water Sports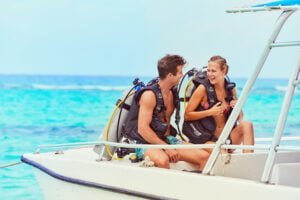 Diving
Diving, Submerge in the underwater world of Viva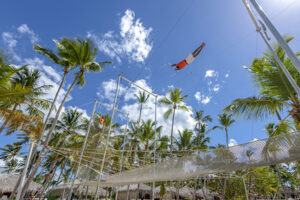 Trapeze
Soar high, go for it!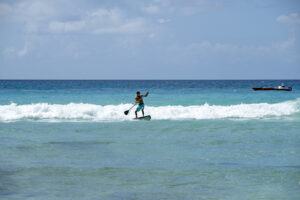 Paddleboard
Paddleboard walking on water… almost!
About Bayahibe
The resort is situated in Bayahibe, in the province of La Romana. A quaint town that's home to a rural fishing community, a baseball league, local artisans and magnificent white sand and crystal-clear water beaches. This scenic village boasts a one-of-a-kind atmosphere where you'll make memories for a lifetime.
Quick Facts
25 minutes from the town of La Romana

This resort is served by 3 international airports:

15 minutes from La Romana Airport (LRM)

35 minutes from Punta Cana Airport (PUJ)

60 minutes from Las Américas Airport (SDQ)

Official language: Spanish

Currency: Dominican Peso

Climate: Average annual temperature of 81°F (27°C) during the day and 73°F (23°C) at night.